Nutrition21 — Leading the Way in Sports Nutrition Ingredients
Current sports nutrition products are very different from the chalky and bad-tasting powders, bars, and electrolyte drinks of decades ago.
The focus today is on innovative research-backed ingredients that feature a broader range of better-tasting flavors and formats. Additionally, the science of sports nutrition has exploded and is becoming more sophisticated and complex while allowing formulators and manufacturers more flexibility and creativity with product development.
The sports nutrition industry is projecting a compound annual growth rate (CAGR) of 13.84% through 2027. According to a report from Research and Markets, suppliers and manufacturers have learned that active nutrition has certainly arrived.
While legacy sports nutrition products continue to perform well in the market, an increasing number of products in the space are being formulated for the mainstream "active nutrition" consumer. These products are being developed and marketed with benefits geared to consumers' overall fitness needs.
Although pre- and post-workout products remain an important focus, new consumers entering the category are looking for products that fit "their" definition of fitness.
For some consumers, "performance" might mean enhanced mental focus, reaction time and accuracy, e.g., nootropics. To others, optimizing performance may involve beating their personal best in the gym or participating in a 5K race. However; for others, performance can be hardcore and extreme—pushing limits, dominating an Ironman competition, or placing first in a Spartan Race.
The common overarching goal that all of these consumers share is both a need to optimize performance and to find products that will help them meet these fitness aspirations.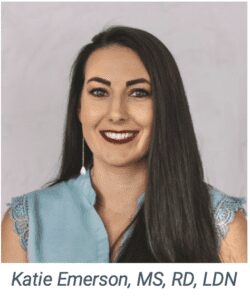 To make the connection between these consumer needs and clinically substantiated ingredients, on February 16th, 2023, Katie Emerson, MS, RD, LDN, Nutrition21's Manager of Scientific Affairs, gave a presentation at the NutraIngredients-USA Sports & Active Nutrition Summit in San Diego, CA, entitled, "Innovating for the Modern Consumer: The Link Between Sports Nutrition and Science-Backed Ingredients."
The three-day summit, of which Nutrition21 was a Diamond Sponsor, brought together industry and research professionals in the sports and active nutrition space to bridge the gaps between cutting-edge science, business strategy, and key regulatory developments.
Making the Connection Between Science-Backed Innovation and Sports Nutrition
In her presentation and in an on-site PricePlow podcast along with Todd Spear, Nutrition21's Sports Nutrition Category Leader, Emerson gave an overview of active and sports nutrition categories, ranging from pre-workout motivation, to cross-over trends, to post-workout and recovery.
She pointed out the increasing interest among consumers for fast-acting and non-stimulatory (non-stim) ingredients that provide a host of benefits, including muscle recovery, tissue repair, energy, and hydration.
The esports category is a perfect example of how legacy sports nutrition benefits, such as non-stim energy, are being married to cognitive performance benefits—including  focus, accuracy, and reaction time—to create specific formulations that also meet gamer demands.
Since both  sports and esports call for more of a mental edge, nootropic supplements and beverages are rapidly growing in demand and use.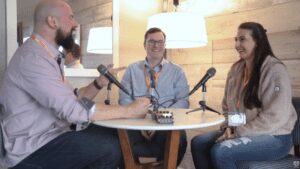 Emerson explained that consumers deserve to have products featuring ingredients that are clinically researched for efficacy, backed by peer-reviewed publications, and safe. She noted ingredients should be high-quality, have science-validated claims, and feature ingredient transparency—which goes beyond clean label by disclosing where ingredients come from and how they are sourced.
She talked about the importance of ingredient synergy and innovations to enhance absorption and emphasized how companies are stepping up their game with innovative delivery systems, including—but not limited to—dissolvable pouches, stick packs, gummies and chews, shots, ready-to-drink (RTD) beverages, bars, fit butters, and snacks.
Emerson discussed Nutrition21's flagship sports-nutrition proprietary branded ingredients and spotlighted the critical value of the company's clinically substantiated claims.
Nutrition21 is an industry-recognized leader in scientifically backed ingredients that not only satisfy the demands of today's consumers but also meet the needs of manufacturers who are looking for high-quality ingredients with substantiation behind them. This resonates with consumers and offers manufacturers value-added benefits in the pre-workout and intra-workout markets.
"Today's consumers are discerning, making clinical research behind active-nutrition and nootropic ingredients even more important," added Emerson. "Nutrition21 continues to strongly invest in a robust clinical research program and routinely publishes peer-reviewed studies on its ingredients," which include Nitrosigine®, nooLVL®, Velositol® and Chromax®. "This research enables brand marketers to develop science-backed products with substantiated claims," Emerson explained.
Nitrosigine — Pre-Workout Powerhouse
Nitrosigine® is a patented complex of Bonded Arginine Silicate that is clinically substantiated to deliver benefits essential to peak sports performance.
It is a powerful ingredient that has been studied for safety and efficacy in over 30 studies. It also has been shown to support healthy blood flow, promote muscle pump, enhance focus and energy.
In a 2021 study published in Nutrients, among healthy adults a single dose of Nitrosigine led to significant improvements in the Repeatable Battery for the Assessment of Neurological Status (RBANS)—a widely used test of cognitive performance—and significantly improved measures of immediate memory compared to placebo1.
Click here to download the infographic.
Fast-acting and long-lasting Nitrosigine can deliver more non-stim energy time-optimized results, boosted muscle pump, and more.*
As an ingredient with both GRAS status and a FDA-registered New Dietary Ingredient Notification (NDIN), Nitrosigine is easily formulated into a variety of dietary supplement and functional food/beverage applications including RTD beverages, pre-workout powders and dry mixes, bars and snacks, gummies and gels, tablets and capsules, and more!
No Caffeine Crash Dummy Here—nooLVL Provides Real Non-Stim Energy
nooLVL® is a patented complex of Bonded Inositol-arginine silicate. A non-stimulant ingredient, nooLVL significantly enhances cognitive performance with esports athletes.*
What makes nooLVL an unparalleled standout among performance ingredients? This patented non-stim ingredient was the first nootropic (2019) designed for and studied in a population of gamers to target benefits that are most important to the booming esports industry.
nooLVL works rapidly and delivers increased no-jitters energy safely, without negatively affecting heart rate or blood pressure.*
Click here to watch the nooLVL video!
nooLVL is a nootropic that enhances performance in fast-paced competition. The Nutrition21 research and development team had an early interest in esports and conducted a clinical study in a population of gamers.
A gold standard (double-blind, placebo-controlled) clinical study on nooLVL was conducted in healthy men and women who spent five or more hours a week playing video games—and the results are next level!
In this study, nooLVL significantly increased mental acuity and focus within 15 minutes with a 33% improvement2. The patented combination also improved cognitive flexibility.
In addition, nooLVL significantly improved attention and reaction time in gamers even after 60 minutes of game play. In a double-blind, placebo-controlled trial, nooLVL resulted in 60% fewer errors, significantly improving accuracy, compared to placebo after a single dose3.
This safe non-stim ingredient can be easily formulated into functional food/beverage or dietary supplement products. nooLVL is an excellent addition to powders, RTD beverages, gummies and gels, bars and snacks, gummies and gels, tablets and capsules, and more.
Improving Performance With Velositol!
Velositol® is a patented complex of Amylopectin and Chromium that, when used with protein, is designed to increase strength and power by accelerating and safely boosting muscle protein synthesis (MPS)4, a key to enhanced muscle growth, lean body mass, and quicker muscle recovery. Velositol also promotes insulinogenic function, which increases amino acid uptake, thus providing fuel for working muscles, so consumers can get the most out of a workout—even after their workout.*
With the simple addition to protein, Velositol can provide amped up strength and power, and may help optimize body composition with regular use.
Velositol is GRAS and has a flavorless taste profile, making it easy to formulate into a variety of dietary supplement and functional food/beverage applications, including RTM (ready to mix) protein powders, gummies and gels, bars and snacks, puddings, and more!
Click here to download the infographic!
Nutrition21 also offers Chromax® Chromium Picolinate—a highly bioavailable form of chromium backed by 35 human clinical studies that support its benefits for weight management, body composition, appetite control, cognitive health, glucose metabolism, insulin function, and energy support.*
Since the sports nutrition market continues to shift and adapt to evolving consumer behaviors, innovation is vital to keep the category both fresh and relevant.
Fortunately, Nutrition21's portfolio features best-in-class, science-backed ingredients with powerful benefits that ensure product efficacy and safety while earning consumer trust.
For more information about our ingredient solutions, please reach out to your Nutrition21 representative or email us at: [email protected]
*These statements have not been evaluated by the Food and Drug Administration. These products are not intended to diagnose, treat, cure, or prevent any disease.
References:
Gills JL, Campitelli A, Jones M, et al. Acute inositol-stabilized arginine silicate improves cognitive outcomes in healthy adults. Nutrients. 2021;13(12):4272. doi: 10.3390/nu13124272.
Kalman D, Harvey PD, Perez Ojalvo S, Komorowski J. Randomized prospective double-blind studies to evaluate the cognitive effects of inositol-stabilized arginine silicate in healthy physically active adults. Nutrients. 2016;8(11):736. doi: 10.3390/nu8110736.
Tartar JL, Kalman D, Hewlings S. A prospective study evaluating the effects of a nutritional supplement intervention on cognition, mood states, and mental performance in video gamers. Nutrients. 2019;11(10):2326. doi: 10.3390/nu11102326.
Ziegenfuss TN, Lopez HL, Kedia A, et al. Effects of an amylopectin and chromium complex on the anabolic response to a suboptimal dose of whey protein. J Int Soc Sports Nutr. 2017;14:6. doi: 10.1186/s12970-017-0163-1.
Ziegenfuss TN, Cesarea K, Raub B, et al. Effects of an amylopectin-chromium complex plus whey protein on strength and power after eight weeks of resistance training. J Exerc Nutr. 2021;4(3).
M0003423